NHTSA's National Standards
    The National Highway Traffic Safety Administration, the American Driver and Traffic Safety Education Association and others have developed a set of Novice Teen Driver Education and Training Administrative Standards. Use this link to download the NHTSA National Standards.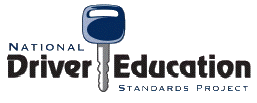 A MDTSEA member has developed a set of ideas how Minnesota could meet those standards. Use this link to download the ideas.

    Responses to these ideas are invited. E-Mail to MDTSEA
Comments made on the ideas above:

   
None so far.